Join an incredibly unique and exclusive polar adventure as we travel to the realm of the arctic circle in search of one of the planet's most mythic and revered predators - the Polar Bear. Our destination is the famed Svalbard archipelago of northern Norway. Located between the North Pole and Norway and with approximately 3000 polar bears, the Svalbard archipelago is home to one of the greatest concentrations of polar bears on the planet. This area of the planet remains wild, pristine, and utterly unforgettable. With its vast, unspoiled mountain-scapes, dramatic fjords, massive glaciers, and picturesque icebergs coupled with a myriad selection of unique arctic wildlife (polar bears, walrus, reindeer, arctic fox, various whale species, seals, puffins, fulmars, and a multitude of migratory bird species) Svalbard is a nature and landscape photographers ultimate paradise. Our primary mission is to provide you with everything you need to produce publication quality images of this remote and beautiful land. Our emphasis will be seeking out Polar Bears and other arctic wildlife along with unique and beautiful landscapes. With this as our ultimate goal, we have specifically designed this expedition down to the last detail for photographers from a photographers point of view.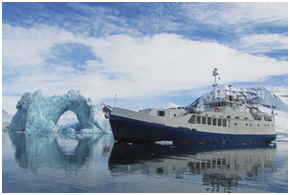 To cater to the special needs of photographers and to give us ultimate flexibility and freedom to  photograph whatever and whenever we want, we have chartered our own ship for our exclusive use. Yes, this does increase costs over traditional larger cruise ships with their hundreds of passengers but we strongly feel having our own ship and small group size provides a tremendous advantage when it comes to capturing world class images. Quite simply, it means we are not dictated by a strictly scheduled itinerary that could potentially force us to leave a perfect photographic moment, nor will we be frustrated by the large group tourist mentality of simply checking an animal off one's list with a few snap shots and then moving on to the next "pullover spot". If we discover an exceptionally rich photo subject or area, ie. polar bear with cubs, polar bear hunting, a pod of Orcas, an exquisitely lit landscape or whatever interesting subject matter that intrigues us, we have the freedom to work that subject for two minutes, two hours or two days, however long we need. This trip is for photographers serious about getting outstanding images at a completely relaxed pace.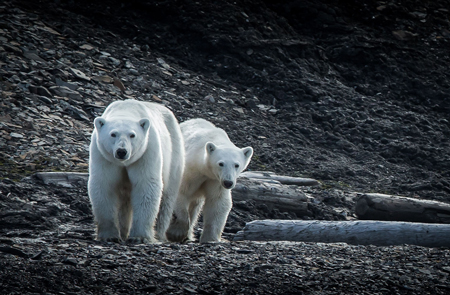 Additionally, we are limiting this expedition to only 12 guests thus ensuring excellent comfort and optimum efficiency for photography, not to mention a level of personal service not seen on larger tour ships. Having only twelve guests and working from a smaller ship, we can access areas that are typically inaccessible to the larger ships and their large groups. It won't be uncommon to have locations completely to ourselves, not another ship or human in sight.  Don't worry, a smaller ship doesn't mean we will be roughing it by any means. Although we will be giving up onboard gym rooms, theatres, and evening entertainment shows, we will make up for this "loss" with wonderful food, excellent camaraderie, and endless amazing photo opportunities.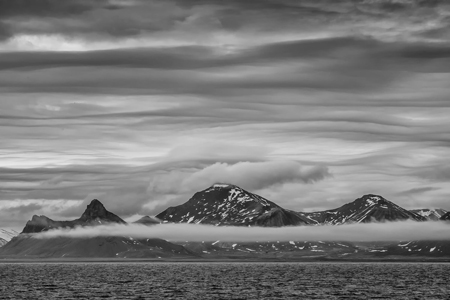 A fantastic French chef is onboard to ensure we are all wonderfully fed and in good spirits. Speaking of spirits, fine French wines and a wide selection of spirits are always available during social times or when convening for those 5 hour long sunsets. Furthermore, each person has their own cabin if they choose (couples can share) and all cabins have private en-suite bathrooms. A spacious and comfortable lounge area for social gatherings, photo editing and discussing photoshop techniques to make the most out of our images is also available. An open air deck and open access command bridge policy make excellent wildlife viewing and spotting areas. We also have 2 inflatable zodiacs at our disposal for when we want to get up and personal with our potential subject matter or for those numerous times we make land excursions.
EXPEDITION HIGHLIGHTS
Locate and photograph polar bears, walrus, various whale species including blue, humpback, fin, sei, minke, beluga and orca, reindeer, Arctic fox, seals, numerous bird species including puffins, fulmars, terns, auks and buntings.
Cruise amidst and photograph under exquisite 24 hour arctic light the stunning, rugged mountain ranges, stark tundra landscapes, deep fjords, massive glaciers, other-worldly ice formations.
Wine and social gatherings under the arctic midnight sun
Photography hikes along the coast and tundra, explorations of abandoned historic whaling outposts and geothermal landscapes.
Extended Zodiac cruises for up close and personal nature photography.
Trip Dates:
June 26-July 9 and July 6-19th 2019
Cost:
$11,800
June and early July is prime photography time in the Svalbard archipelago. Ice and snow is still present in the far north latitudes making for exceptionally unique landscapes and backdrops for nature photography especially in relation to roaming polar bears. Additionally, migratory bird species are out in full force as well as the spring bloom of flora.

Contact for full trip Details.
Print This!